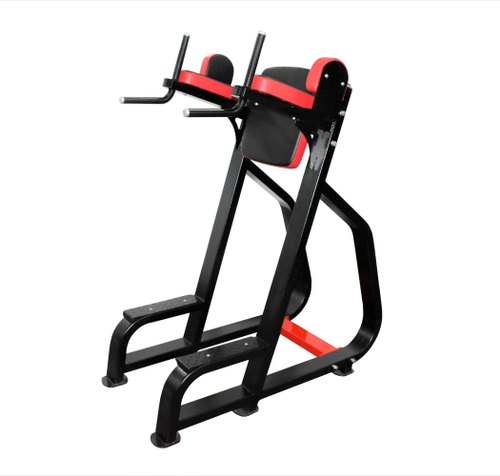 Vertical knee raiser/ Parallel Bar ultra
Save

Rs. 3,000.00
Save

Rs. 3,000.00
Original price
Rs. 34,000.00
Original price
Rs. 34,000.00
-
Original price
Rs. 34,000.00
Original price
Rs. 34,000.00
Current price
Rs. 31,000.00
Rs. 31,000.00
-
Rs. 31,000.00
Current price
Rs. 31,000.00
MSF

 

Vertical Knee Raiser/Parallel Bar
If you're looking to take your bodyweight workout to the next level, the vertical knee raiser and parallel bar equipment is a great tool to help you do just that! It's a great way to add resistance training with your own body weight and it can be used to do all sorts of strength-building exercises from push-ups, dips, squats, and more.

Using the vertical knee raiser also allows you to work on improving your muscular balance, stability and posture. This can help reduce the risk of injuries and improve your overall athletic performance.
One of the great benefits of using the vertical knee raiser is that it can be used by beginners as well as advanced athletes. There are one levels of intensity that can be suit any user's fitness level. This allows you to get a full-body workout while targeting specific muscle groups.

In addition, the vertical knee raiser is a great piece of equipment for those that have physical limitations or injuries. It is low impact which means it can be used even if you have underlying medical conditions that would ordinarily prevent you from exercising.

So if you're looking for an intense, full body workout with resistance training, the vertical knee raiser is the perfect piece of equipment for achieving your fitness goals!
The contoured, extra thick elbow pads are ergonomically designed and provide stability and comfort for knee up exercises. It includes a back pad that will help support you and keep you from swaying during the exercise. The equipment is made of best quality, fine finished square and rectangular heavy duty steel pipes. These are well recognized for their features such as corrosion resistance, premium functionality, low maintenance, robust construction and enhanced durability. The equipment is powder coated. High quality foam and Rexine are used for cushion making. High quality bolts and nuts are used for assembly. High quality rubber boots are used at the ends of the base pipes to avoid damage to the gym floor.
Dimension:
L 50.5''        W 33''         H 70''
L 128.5cm   W 84cm      H 178cm
Target Muscle: 
AB muscle - rectus abdominals
*T&C: Installation charges will be extra