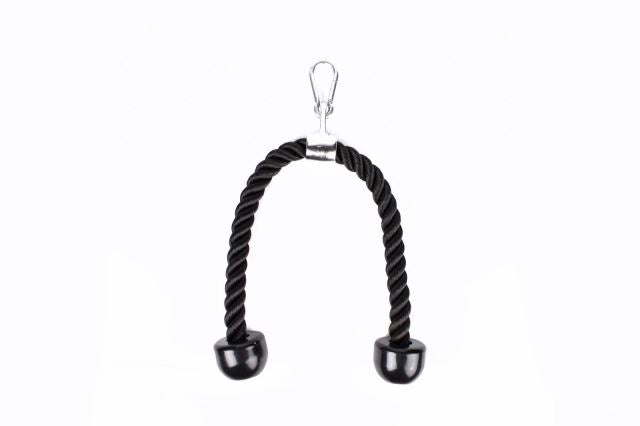 Tricep Rope
Save

Rs. 0.00
Save

Rs. 0.00
Original price
Rs. 0.00
-
Original price
Rs. 0.00
Do you want to take your triceps workout to the next level? Then you should try using a triceps rope handle! This simple piece of equipment can help you target your triceps muscles and build strength in a way you never thought possible. In this blog, we'll discuss the benefits of using a triceps rope handle in the gym and how you can incorporate it into your exercise routine.

First, let's discuss the anatomy of the triceps muscles. The triceps are located on the back of the upper arm and are made up of three heads: the long head, the lateral head, and the medial head. To effectively target all three heads, you need to use a variety of exercises. That's where a triceps rope handle comes into play.

Using a triceps rope handle can help you perform exercises like rope pulldowns, rope extensions, and rope pushdowns. These exercises can help you isolate the triceps muscles, allowing you to target them more effectively. Additionally, the rope handle provides a better grip than using a barbell or dumbbells. This makes it easier to control the movement and maintain good form.

Incorporating a triceps rope handle into your routine is a great way to add variety to your workouts and challenge your muscles in new ways. So, if you're looking to take your triceps training to the next level, try adding this simple piece of equipment to your gym bag.

Constructed of heavy-duty black nylon braided rope with durable rubber stoppers.
Tricep Pulldown Rope comes with heavy-duty chrome plated attachment to attach to any universal gym system for multi-workouts.
Designed with large rubber blocks at the end of the rope to increase effectiveness in use & prevent slipping or sliding while practicing.
Ideal to home gym exercise, lat machine, ab machine, cable crossover, or any pulley system to maximize your fitness ability.
Tricep rope provides great way to perform tricep press downs or hammer curls with a natural free-form feel.
Designed to develop your triceps, biceps, back, shoulders, abs and improve your grip strength.