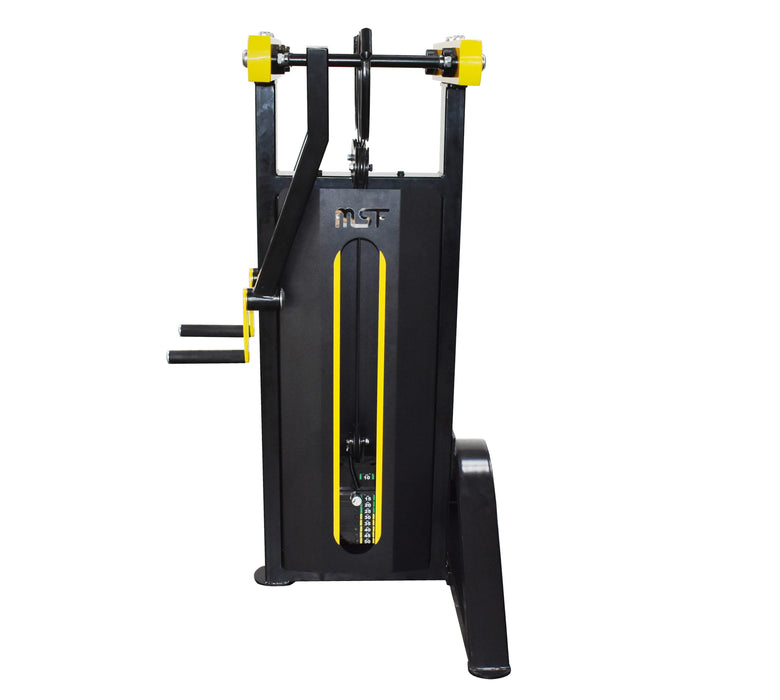 Side Lateral Raise Machine
Save

Rs. 6,000.00
Save

Rs. 6,000.00
Original price
Rs. 94,000.00
Original price
Rs. 94,000.00
-
Original price
Rs. 94,000.00
Original price
Rs. 94,000.00
Current price
Rs. 88,000.00
Rs. 88,000.00
-
Rs. 88,000.00
Current price
Rs. 88,000.00
MSF Side lateral raise machine
The Standing Side Lateral Machine Pin Loaded is a popular gym equipment that can help you target your shoulder muscles effectively. This machine is designed to provide resistance to your lateral deltoids, which are the muscles responsible for lifting your arms to the sides.
Using this machine is quite simple. First, adjust the seat height so that your shoulders are in line with the axis of rotation. Then, select the appropriate weight by inserting the pin into the weight stack. Finally, grab the handles and lift your arms to the sides until they are parallel to the floor. Lower the weight slowly and repeat for the desired number of reps.
This exercise is great for building shoulder strength and size, and can be incorporated into your upper body workout routine. However, it's important to use proper form and not to lift too heavy of a weight to avoid injury. As always, consult with a certified trainer or your doctor before starting any new exercise routine.
Side machine raises primarily work the side (lateral) shoulders but the front and rear shoulders as well as the traps, also come into play. If raising the arm above horizontal, the upper portion of the trapezius also becomes involved.
Dimension:
L 69'' W 53'' H 59''
Target Muscle:
shoulders - Deltoids.
*T&C: Installation charges will be extra.