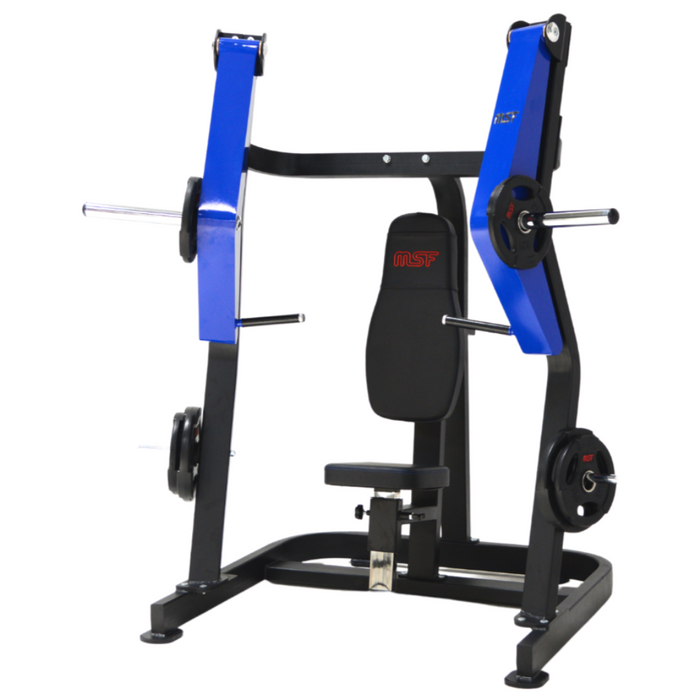 Seated Chest Press (Plate Loaded)
Save

Rs. 6,750.00
Save

Rs. 6,750.00
Original price
Rs. 82,000.00
Original price
Rs. 82,000.00
-
Original price
Rs. 82,000.00
Original price
Rs. 82,000.00
Current price
Rs. 75,250.00
Rs. 75,250.00
-
Rs. 75,250.00
Current price
Rs. 75,250.00
MSF Seated Chest Press (Plate Loaded) 
The Seated Chest Press Plate Loaded machine is a great choice for those looking to build their chest muscles and strength. This machine is designed to provide a wide range of exercises for both upper and lower chest muscles. The machine has cushioned seat and adjustable range of motion to suit different sizes and shapes of users. The weight plates are easy to add and remove and provide a wide range of resistance that can be adjusted to suit the user's strength level. The machine also features a back pad that helps support the user's body while performing the exercises, allowing for proper form and technique. With regular use, the Seated Chest Press Plate Loaded machine can help build the strength and size of the chest muscles, allowing for a more balanced physique.
The seated chest press machine is an upright version of the standard lying bench press machine. The arms, placed under a weight-bearing load, are pushed away from the chest and returned to starting position.
This exercise targets the main muscle of the chest, the pectorals. Developing the pecs is an aesthetic goal for many people. It is also functional in developing strength and power for sports where you swing a bat, racket, or club. The chest press machine also recruits the biceps and the big muscles of the shoulders and back. Using a machine helps prevent many errors of form. You can adjust the seat and handles so they are in the correct position for your body. Using a machine, you are able to lift heavier weights with more control.
Dimension:
L 46''    W 70''    H 78''
L 117cm    W 178cm     H 198cm
Target Muscle:
Chest - Pectorals,
Deltoids and triceps.
*T&C: Installation charges will be extra.