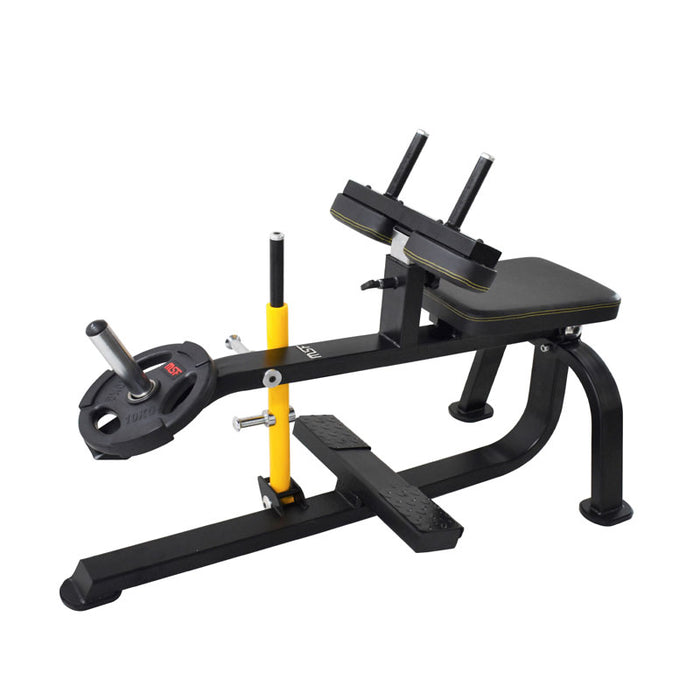 Seated Calf Stand Plate Loaded (Alpha)
Save

Rs. 9,000.00
Save

Rs. 9,000.00
Original price
Rs. 45,000.00
Original price
Rs. 45,000.00
-
Original price
Rs. 45,000.00
Original price
Rs. 45,000.00
Current price
Rs. 36,000.00
Rs. 36,000.00
-
Rs. 36,000.00
Current price
Rs. 36,000.00
MSF Seated Calf Stand (Alpha)
⦁A seated calf stand plate loaded is a strength training machine designed to target the calf muscles in the lower legs. The machine consists of a seat and weight plate holder, one for each calf muscle. The user sits on the seat, which is adjustable for various heights, and rests their calves on the platforms where the weight plates are loaded. The user can then use the weight plates to perform calf raises, which is a great exercise for strengthening and toning the calf muscles. The machine is designed to provide a safe and effective workout, as the user is supported by the seat and the weight plate holder are securely attached. Using the machine can help improve overall calf strength and muscle definition.
It is a strength-gaining exercise machine that targets your calf muscles and accelerates their growth. It specifically activates and stresses the soleus calf muscle, and so the exercise is best performed by maintaining an angle of 90 degrees at the knees.
⦁ Since the soleus comprises slow-twitch muscle fibers, performing the seated calf raise builds your endurance required for running, cycling, and walking.
⦁ It stimulates the growth of muscle and bone tissue, which helps in preventing injuries to your ankle and tear along the shinbone
Dimension:
L 58''        W 29.5''   H 35.5''
L 147cm   W 75cm   H 90.5cm
Target Muscle:
calf - soleus.
*T&C: Installation charges will be extra.