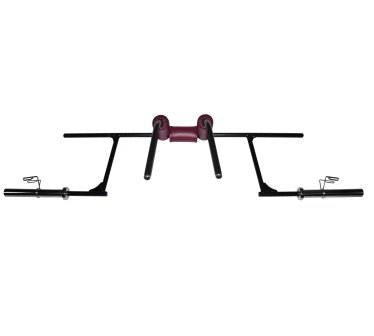 Safety Squat Bar (Spider Bar)
Save

Rs. 6,400.00
Save

Rs. 6,400.00
Original price
Rs. 18,400.00
Original price
Rs. 18,400.00
-
Original price
Rs. 18,400.00
Original price
Rs. 18,400.00
Current price
Rs. 12,000.00
Rs. 12,000.00
-
Rs. 12,000.00
Current price
Rs. 12,000.00
MSF safety squat bar is built with padded shoulders using foam rollers & covered with vinyl for comfort

Shoulder support with hand grips & cambered solid bar design helps maintain your squat form

Works with squad stands, rack, and bench press

The MSF safety squat bar finally enables you to perform squats without having to grab the bar. Just let go of the bar and it will stay perfectly positioned on your shoulders with the load spread comfortably over the 3 pads.

This Olympic squat bar is constructed from 30mm solid high-tensile steel which means it can handle any weight up to 1000 lbs. It's a must-have accessory equipment for every commercial or home gym.

Whether you don't have the shoulder and chest mobility just yet to perform a standard back squat or you simply want to take some stress off your shoulder joints, this safety squat bar is for you.

The MSF safety bar squat is an extremely versatile fitness equipment that, in addition to back squats, can also be used for Front Squats, Walking Lunges, Zercher Squats, Good Mornings & Box Squats.

Contrary to the regular back squat, the safety bar squat forces you to train with an upright torso position which automatically locks your knee and hip joints in place and removes all the stress from the lower back. Pain-free squats are now a possibility for every athlete.

Front handles eliminate the need to have hands on the bar, great for those who lack shoulder flexibility or those who experience shoulder pain with a regular barbell.

Comfortable and durable neck and shoulder pads help to eliminate the strain of the bar.