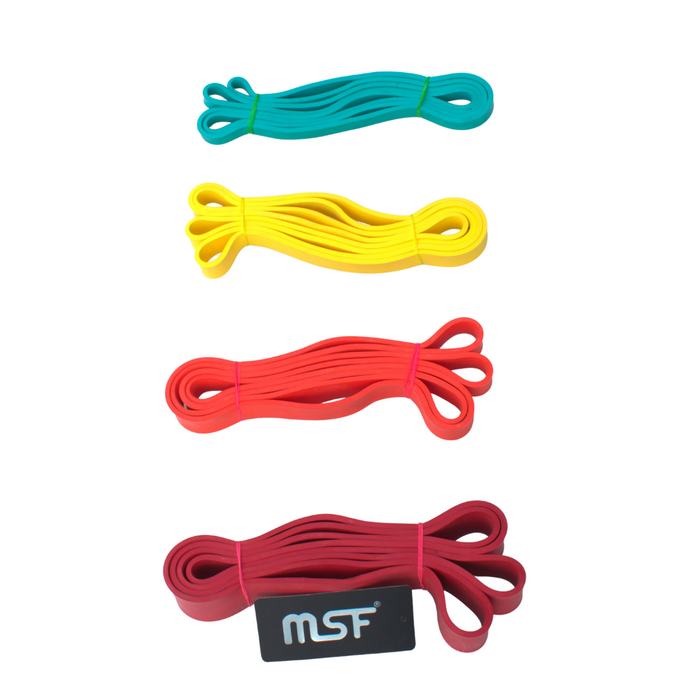 Resistance Bands
Save

Rs. 0.00
Save

Rs. 0.00
Original price
Rs. 0.00
-
Original price
Rs. 0.00
          Strength training is an essential part of any gym workout regimen, and resistance bands are an excellent tool to accomplish this. Resistance bands come in a variety of shapes, lengths, and resistances, and can be used for a variety of exercises that target different muscle groups.
For starters, resistance bands are an excellent way to warm up prior to an intense workout. Resistance bands can be used for bodyweight exercises such as pull-ups, push-ups, squats, and planks. They can also be used for isolation exercises such as bicep curls and triceps press-downs.
Another advantage of resistance bands is that they can be used anywhere, which makes them great for travel workouts. They're also much more affordable than free weights, which makes them a great option for beginners or those on a budget.
Resistance bands are also incredibly versatile, as they can be used in conjunction with free weights to increase the intensity of an exercise. For instance, using a resistance band for pull-ups can make the exercise more difficult by adding extra resistance.
Finally, resistance bands can be used for a variety of stretching exercises that help to improve flexibility and reduce the risk of injury. Stretching is an important part of any workout, and resistance bands can be used to target virtually any muscle group.
Overall, resistance bands are an excellent and versatile tool that can be used to accomplish a variety of strength training and stretching exercises. They're also incredibly affordable and portable, making them perfect for those on a budget or who travel often.