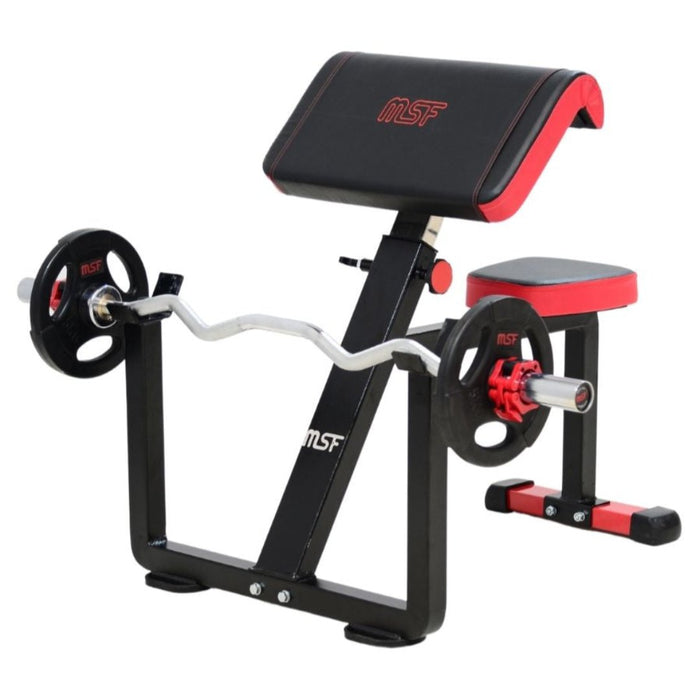 Preacher Curl Bench (Alpha)
Save

Rs. 0.00
Save

Rs. 0.00
Original price
Rs. 0.00
-
Original price
Rs. 0.00
 Working out can be a great way to stay healthy and fit, and preacher curls are a great exercise for targeting your biceps. A preacher curl bench, like the one you described, is an ideal way to execute this exercise while in a seated position. The wide arm pad and adjustable seat height provide stability and comfort while you lift. This makes it easier to focus on proper form and technique, helping you to get the most out of your workout. Additionally, the preacher curl bench can help to reduce strain on your lower back and shoulders, making it an ideal choice for those with back and shoulder issues.
Perfect for executing bicep curls from a seated position.
This seated preacher curl features a wide arm pad, adjustable seat height.
Height adjustable pins are facilitated for placing Olympic bar at different heights.
These are well recognized for their features such as corrosion resistance, premium functionality, low maintenance, robust construction and enhanced durability.
The equipment is powder coated.
High quality foam and rexine are used for cushion making.
High quality bolts and nuts are used for assembly.