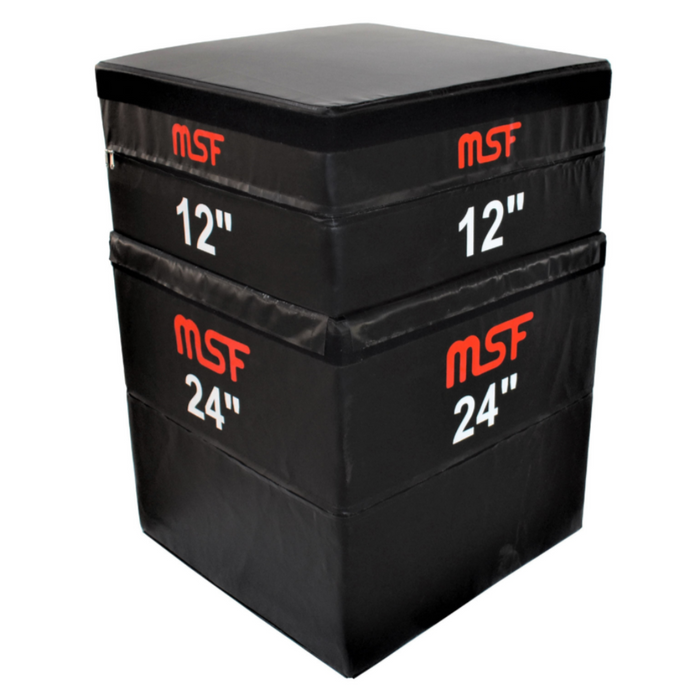 Plyometric Soft Box
Save up to

Rs. 1,500.00
Save

Rs. 1,500.00
Original price
Rs. 4,500.00
Original price
Rs. 4,500.00
-
Original price
Rs. 4,500.00
Original price
Rs. 4,500.00
Current price
Rs. 3,000.00
Rs. 3,000.00
-
Rs. 6,900.00
Current price
Rs. 3,000.00
MSF
Plyometric Soft / Jump Training Box
Plyometric soft boxes are an excellent way to incorporate plyometric exercises into your gym routine. Plyometric exercises are a form of exercise that use quick, powerful movements to increase speed and strength. Jumping onto a plyometric jump soft box helps build explosive power, while also improving balance, coordination, and agility. Additionally, using a plyometric jump stool box can help target different muscle groups, such as your glutes, calves, hamstrings, and quads. To get the most out of your plyometric jump soft box exercises, make sure to use proper form, focus on your breathing, and take breaks when necessary. With the right technique and dedication, plyometric jump soft boxes can help boost your performance and push your fitness goals further.

Crossfit, MMA, Aerobic conditioning, plyometric exercise, athletic training, jump box, step box, step ups, box dips, curls, squats, inclined/declined pushups, plank, Box jumps

It's time to step up your conditioning workout and rise to a new challenge. It doesn't matter if you're at home or the gym, this compact workout box is the best in the business. This is going to give you the edge you need in your cross training, aerobic exercises, or physical therapy. It doesn't matter if it's box jumps, push-ups, dips, or step-ups, this box has you covered!

Our light plyo box was designed for people who are looking to get fit and improve performance. 

If you're going to put in hours of effort to improve yourself, you should expect professional durability from your workout equipment. By using durable foam in our construction, we've created a solid foam platform that can support countless hours of workouts. Compact and durable, this box is the tool you need to take your workout to new heights.

We never want you to worry about getting injured during your workouts, especially when you use our plyo box. Unlike other wood boxes, we've designed this workout box to be soft so that you don't have to worry about banging your shins against the edge. The material is a slip-free surface, meaning you can have stability with every single set of jumps.