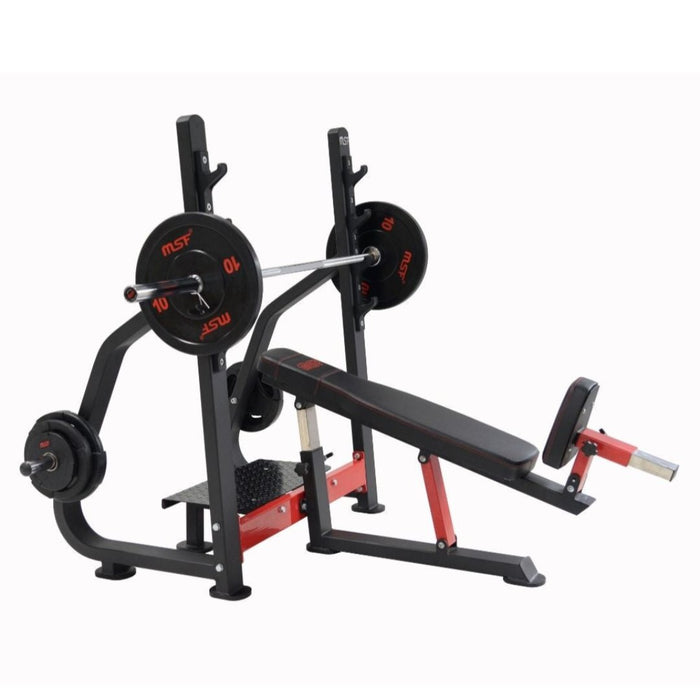 Olympic Incline/Flat bench
Save

Rs. 8,000.00
Save

Rs. 8,000.00
Original price
Rs. 44,000.00
Original price
Rs. 44,000.00
-
Original price
Rs. 44,000.00
Original price
Rs. 44,000.00
Current price
Rs. 36,000.00
Rs. 36,000.00
-
Rs. 36,000.00
Current price
Rs. 36,000.00
MSF

 

Olympic Incline/Flat Bench
Are you looking for an Olympic incline and flat bench for the gym? If so, you have come to the right place! An Olympic incline and flat bench are essential pieces of equipment for any weightlifting routine. The Olympic incline bench is designed to permit a range of angles to target different areas of the chest, while the flat bench is great for performing a range of presses and other exercises.
When choosing an Olympic bench, you should look for one that is sturdy and durable enough to support the weights you will be lifting. Quality benches should be constructed of steel and have adjustable safety bars, so you can customize your setup for maximum safety and comfort. Additionally, look for extra features like adjustable backrests and seat heights, foot plates, and pegs for added stability.
It is important to remember that buying quality equipment is an investment in your health and fitness. Investing in a good Olympic incline and flat bench will ensure that you can enjoy a safe and effective workout for years to come!
Olympic Incline/ Flat bench can be used for flat press and incline press.
⦁  These are well recognized for their features such as corrosion resistance, premium functionality, low maintenance, robust construction and enhanced durability.
⦁ The equipment is powder coated.
⦁ High quality foam and rexine are used for cushion making.
⦁ High quality bolts and nuts are used for assembly.
⦁ High quality rubber boots are used at the ends to avoid damage to the gym floor
Dimension: 
L 76.5''        W 69''           H 57.5''
L 194.5cm   W 175.5cm   H 147cm 
Target Muscle:
Pectoralis, anterior deltoids & triceps 
*T&C : Installation charges will be extra.