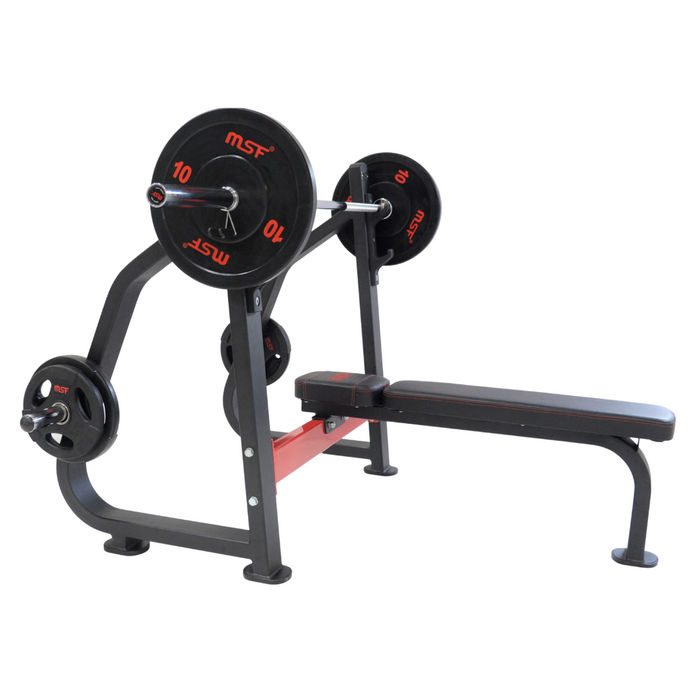 Olympic Flat Bench
Save

Rs. 4,500.00
Save

Rs. 4,500.00
Original price
Rs. 36,000.00
Original price
Rs. 36,000.00
-
Original price
Rs. 36,000.00
Original price
Rs. 36,000.00
Current price
Rs. 31,500.00
Rs. 31,500.00
-
Rs. 31,500.00
Current price
Rs. 31,500.00
MSF

 

Olympic Flat Bench
The Olympic Flat Bench is the perfect choice for a gym. It is designed to provide stability and safety while you are working out. It is a must-have for anyone looking to build a gym as it offers a wide range of benefits. The Olympic Flat Bench is constructed from heavy-duty steel and is designed to last. The height of the bench is suit any user. With comfortable upholstery and a sturdy frame, it is perfect for heavy-lifting and muscle-building exercises. It is an ideal choice for those interested in bodybuilding and powerlifting. With the Olympic flat bench, you can easily achieve your fitness goals.
Olympic Flat bench can be used for flat press.
⦁ These are well recognized for their features such as corrosion resistance, premium functionality, low maintenance, robust construction and enhanced durability.
⦁ The equipment is powder coated.
⦁ High quality foam and rexine are used for cushion making.
⦁ High quality bolts and nuts are used for assembly.
⦁ High quality rubber boots are used at the ends to avoid damage to the gym floor.

Dimension: 
L 68''         W 69''     H 48''
L 173cm    W 175.5cm  H 122cm 
Target Muscle 
Chest &shoulders