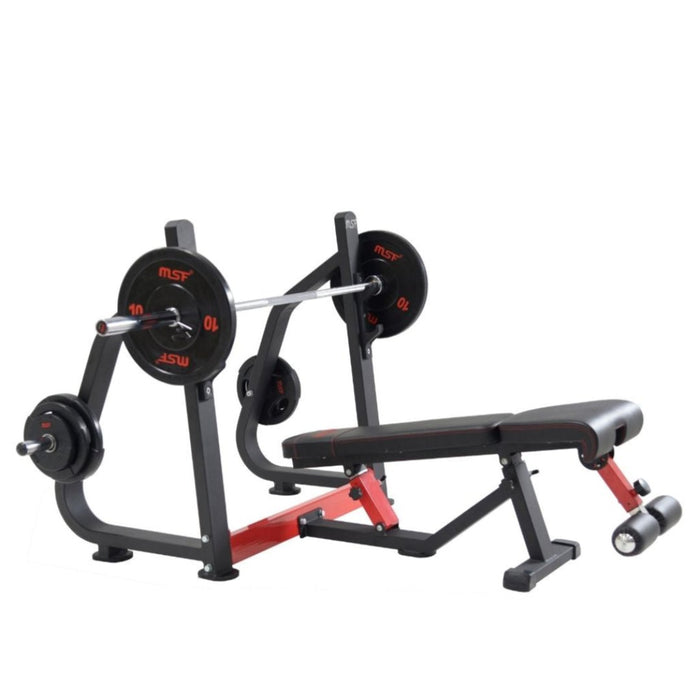 Olympic Decline/Flat Bench
Save

Rs. 8,000.00
Save

Rs. 8,000.00
Original price
Rs. 44,000.00
Original price
Rs. 44,000.00
-
Original price
Rs. 44,000.00
Original price
Rs. 44,000.00
Current price
Rs. 36,000.00
Rs. 36,000.00
-
Rs. 36,000.00
Current price
Rs. 36,000.00
MSF

Olympic Decline/Flat Bench
No matter your workout goals, the Olympic Decline/Flat Bench is an essential piece of equipment for any gym. This multi-use bench provides a variety of options for users. 
The Olympic Decline/Flat Bench allows you to vary your workouts and target different muscle groups without the need for a full set of weights, as you can perform a variety of exercises with the same piece of equipment. This bench also features adjustable back and seat positions, so it can be customized to fit any user's size and preferences.
The Olympic Decline/Flat Bench is also exceptionally durable and constructed with heavy-duty steel and top-quality foam padding. This ensures that your bench not only looks great, but that it will last for years of regular use in any gym.
Whether you're an experienced lifter or just starting out, the Olympic Decline/Flat Bench is an essential addition to any workout routine. With its versatile design and long-lasting construction, this piece of equipment is sure to be a great addition to your gym.
Olympic Decline/ Flat bench can be used for flat press and decline press.

⦁  These are well recognized for their features such as corrosion resistance, premium functionality, low maintenance, robust construction and enhanced durability.
⦁ The equipment is powder coated.
⦁ High quality foam and rexine are used for cushion making.
⦁ High quality bolts and nuts are used for assembly.
⦁ High quality rubber boots are used at the ends to avoid damage to the gym floor.

Dimension: 
L 81.5''  W 69''    H 52.5''
L 207cm     W 175cm   H 133.5cm 
Target Muscle: 
Pectoralis - chest 
*T&C : Installation charges will be extra