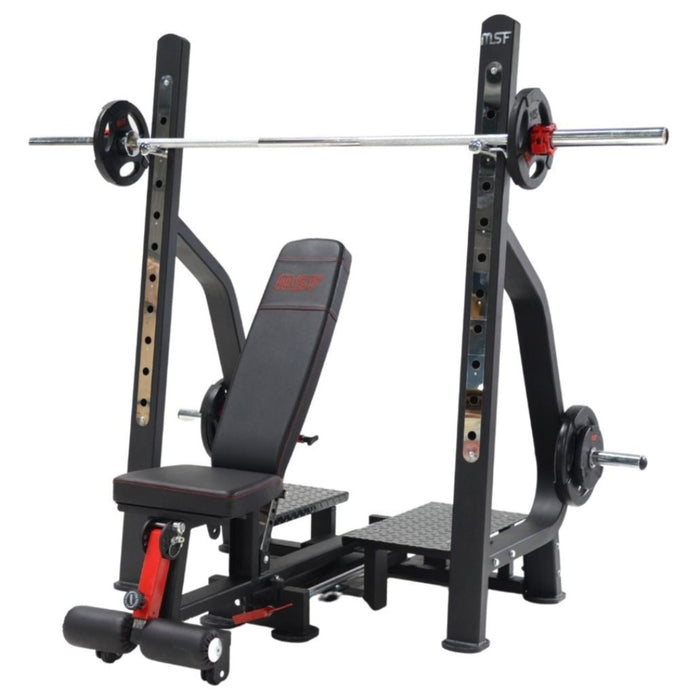 Multi Purpose Olympic 5 in 1 Bench
Save

Rs. 10,000.00
Save

Rs. 10,000.00
Original price
Rs. 72,000.00
Original price
Rs. 72,000.00
-
Original price
Rs. 72,000.00
Original price
Rs. 72,000.00
Current price
Rs. 62,000.00
Rs. 62,000.00
-
Rs. 62,000.00
Current price
Rs. 62,000.00
MSF

OLYMPIC 5 IN 1 BENCH
The Multi-Purpose Olympic Bench 5-in-1 is a revolutionary and versatile piece of exercise equipment that allows you to perform a variety of exercises in a single, streamlined bench. With the ability to adjust to five different positions, the bench offers the perfect combination of comfort and convenience.

In the decline position you can work your abdominal muscles and core, while the flat position is ideal for performing chest and triceps presses. The incline position allows you to target the upper chest muscles, while the shoulder press position allows you to further target your shoulders. Finally, the squat position provides a perfect way to target your lower body.

The bench is made with durable, high-grade steel and is designed to support users of any strength level. It also includes extra-wide arm supports for added stability and comfort. Its adjustable-height legs allow you to customize the bench to your individual height and physique. Plus, the Olympic-style weight posts are compatible with all standard weight plates.

Overall, the Multi-Purpose Olympic Bench 5-in-1 is the perfect piece of exercise equipment for anyone looking to target their entire body in a single, convenient piece of equipment.
⦁ To and fro position movement, angular adjustment of cushion with position locking system highlights the specialty of this machine.
⦁ Usage of good quality linear bearing and nylon rollers assists for smooth position movement.
⦁ These are well recognized for their features such as corrosion resistance, premium functionality, low maintenance, robust construction and enhanced durability.
⦁ The equipment is powder coated.
⦁ High quality foam and rexine are used for cushion making.
⦁ High quality bolts and nuts are used for assembly.
⦁ High quality rubber boots are used at the ends to avoid damage to the gym floor.

DIMENSION:
L  82''           W 68.5''     H 69''
L 1208.5cm  W 174cm   H 175.5cm