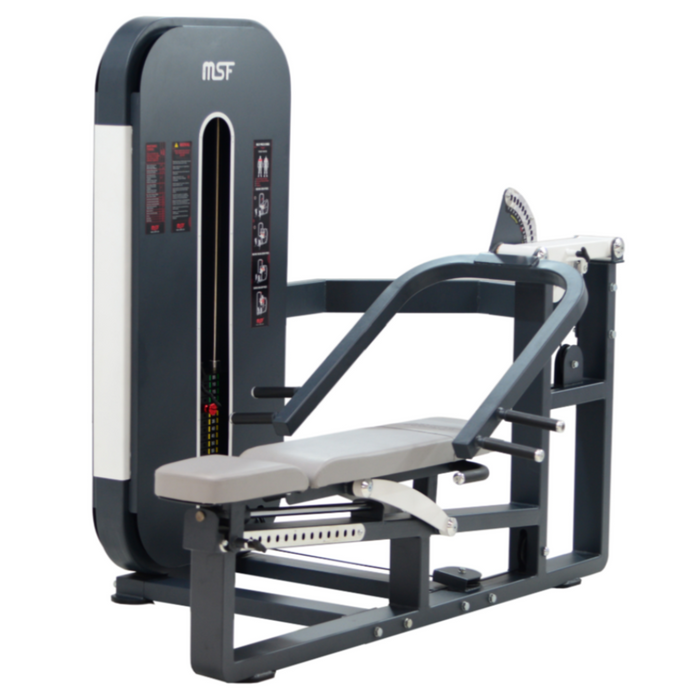 Multi Press Combo (Ultra)
Save up to

Rs. 0.00
Save

Rs. -119,000.00
Original price
Rs. 119,000.00
-
Original price
Rs. 123,500.00
Rs. 119,000.00
-
Rs. 123,500.00
Current price
Rs. 119,000.00
MSF Multi Press Combo (Ultra) 
The Multi Press Combo Machine is an innovative piece of equipment that brings together three pressing movements in one machine: bench press, incline press, and shoulder press. This machine is perfect for any gym enthusiast looking to challenge their chest, shoulders, and triceps.
With the Multi Press Combo Machine, users have access to an array of pressing exercises that are designed to help build strength and muscle mass. The machine provides optimal resistance for each exercise, allowing for a more intense and effective workout. Not only that, but it's also easy to use and requires minimal setup, saving users time and energy.
The Multi Press Combo Machine is ideal for individuals of all fitness levels, from beginner to advanced. Not only does it provide a full body workout, but it also gives users the opportunity to focus on specific muscle groups and refine their technique. The machine can also be used for rehabilitation and stretching purposes, making it a great addition to commercial gym.
Overall, the Multi Press Combo Machine is an excellent choice for anyone looking to build strength, tone their body, and increase their overall fitness levels. With its versatile design and user-friendly features, this machine is perfect for busy gym-goers and athletes alike.
Dimension:

L 76.5''         W 53''        H 62''
L 193.5cm    W 135cm   H 157.5cm
Target Muscle:
Chest - Pectorals
Shoulders - Deltoids
Triceps & traps 
*T&C: Installation charges will be extra.