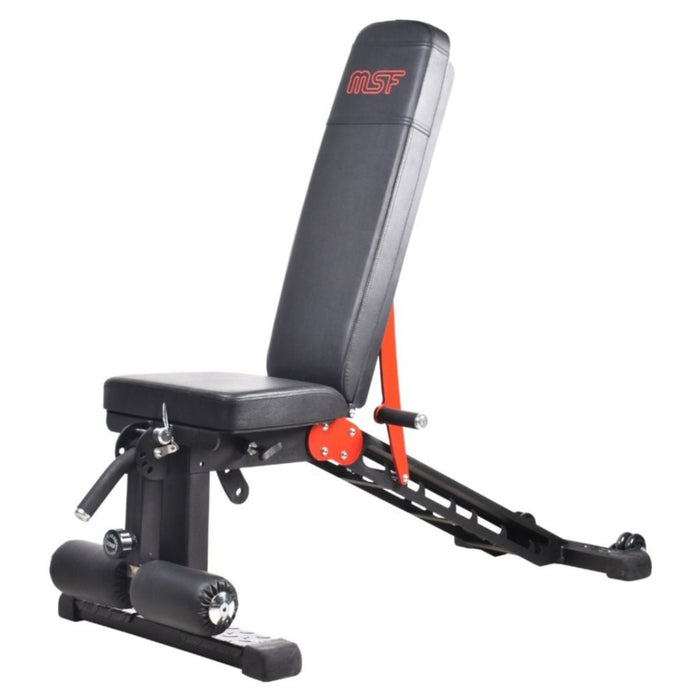 Multi Adjustable Bench
Save

Rs. 10,000.00
Save

Rs. 10,000.00
Original price
Rs. 32,500.00
Original price
Rs. 32,500.00
-
Original price
Rs. 32,500.00
Original price
Rs. 32,500.00
Current price
Rs. 22,500.00
Rs. 22,500.00
-
Rs. 22,500.00
Current price
Rs. 22,500.00
MSF

 

Multi Adjustable Bench 
Get the most out of your workout with a multi adjustable bench from your Gym. This bench is designed to accommodate your fitness goals and provide you with the support you need to reach your exercise goals. With an adjustable backrest and seat, you'll be able to perform a variety of exercises in the comfort of your Gym. The multi adjustable bench can be adjusted to a flat, incline, or decline position, which gives you the flexibility to perform different exercises in different positions. The bench has multiple footplates that can be adjusted according to your height, helping to ensure the correct form and posture while performing exercises. With the multi adjustable bench, you'll be able to perform a variety of exercises and adjust the settings to accommodate your fitness goals.

Used for different workouts.
Rollers and handle facilitate the bench for ease of relocating.
Usage of good quality nylon rollers assists for smooth position movement.
These are well recognized for their features such as corrosion resistance, premium functionality, low maintenance, robust construction and enhanced durability.
The equipment is powder coated.
High quality foam and rexine are used for cushion making.
DIMENSION: 
L 59''     W 28.5''      H 20''
L 150cm  W72.5cm  H 51cm 
Target Muscle:
Chest and Shoulder