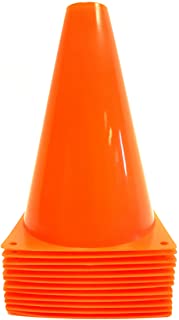 Agility Marker Cone (Set of 6)
Save up to

Rs. 0.00
Save

Rs. -41.00
Original price
Rs. 199.00
-
Original price
Rs. 199.00
Original price
Rs. 199.00
MSF

MARKER CONE 
     6'', 9'', 12'', 15"
Brightly colored Cones, ideal for setting up field boundaries for agility drills, or for setting up obstacle courses.

Built to last and designed for safety, resilient plastic for extreme durability in any weather conditions. When stomped and kicked, these cones maintain their shape and don't easily crack.

Pile surface is not easy crushed, windproof, it is not blown away.

Can be used as sports training cones, roller skating cones, motorcycling cones, football or soccer cones, safety cones; course markers, boundary line markers, outlining agility drills or for managing traffic or in any event for creating clear markings and etc.

Perfect for any sport and numerous other activities, such as soccer, football, basketball, games at parties and events, kids play, bicycle obstacle course, motorcycle training, dog training, horse training and much, much more.