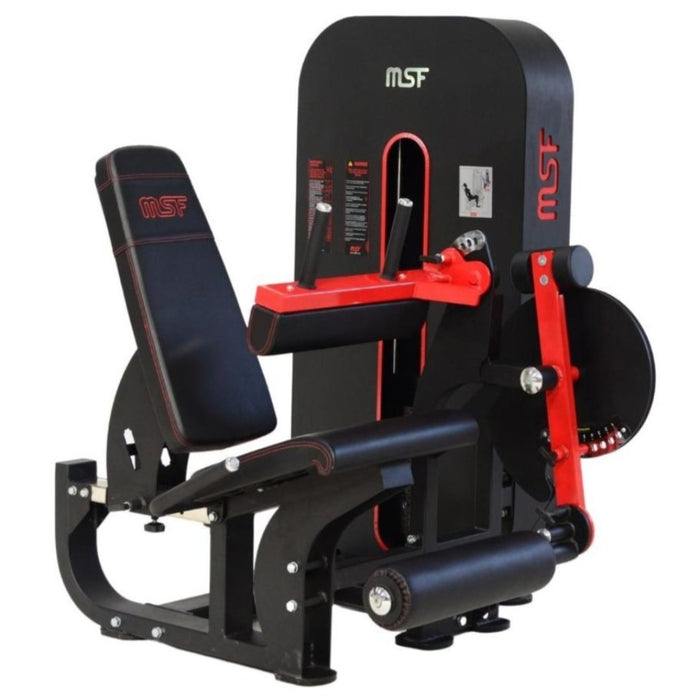 Leg Extension (Elite)
Save up to

Rs. 0.00
Save

Rs. -116,500.00
Original price
Rs. 116,500.00
-
Original price
Rs. 121,500.00
Rs. 116,500.00
-
Rs. 121,500.00
Current price
Rs. 116,500.00
MSF Leg Extension (Elite)
            The leg extension machine is a must-have for anyone looking to increase the strength of their lower body. It targets the quadriceps—the four muscles on the front of your thigh—by allowing you to push against a weight with your legs. When done properly and with correct form, the leg extension machine can help you build muscle, increase strength, and improve flexibility.
Before attempting to use the leg extension machine, read the instructions carefully and understand how to properly adjust the machine to your body size. Make sure the seat is adjusted so that your knees are at a 90-degree angle while your feet are on the foot plate. Always keep your back and head against the seat and maintain your posture throughout the exercise.
Start by slowly lifting the weight and extending your legs. As you become more comfortable with the machine, slowly increase the weight. Keep your movements slow and controlled, and focus on squeezing your muscles as you extend and release your legs. Do not hyperextend your legs.
After your workout, make sure to stretch your quadriceps and any other muscles you may have used. This will help reduce any soreness and prevent any potential injuries. With regular use of the leg extension machine, you'll see measurable improvements in strength and flexibility.
The leg extension is a resistance weight training exercise that targets the quadriceps muscle in the legs.
⦁ Helps in building strong knees, quads, and glutes are necessary to increase your natural speed, balance, and coordination.
L 44''  W 45''       H 59''
L 112cm   W 114cm    H 150cm 
Target Muscle: 
Front or  anterior of leg - Quadriceps.
*T&C: Installation charges will be extra.