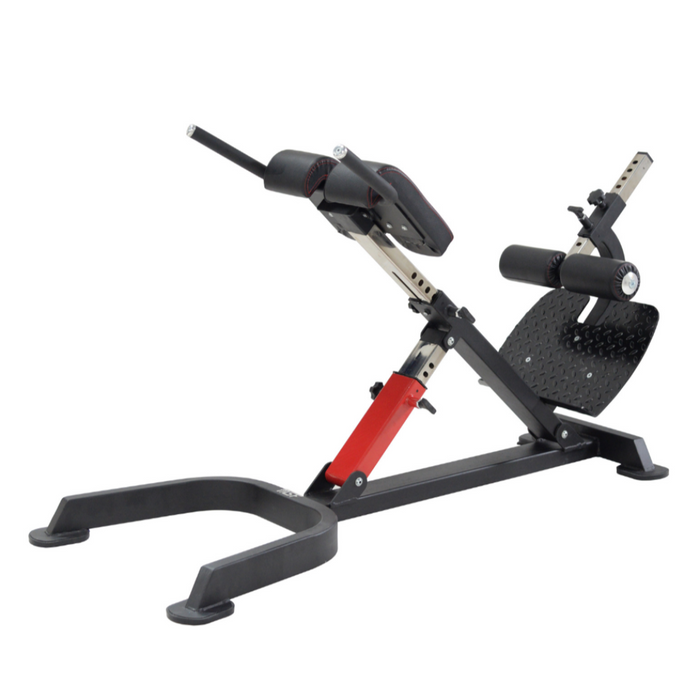 Hyper Extension
Save

Rs. 10,000.00
Save

Rs. 10,000.00
Original price
Rs. 36,000.00
Original price
Rs. 36,000.00
-
Original price
Rs. 36,000.00
Original price
Rs. 36,000.00
Current price
Rs. 26,000.00
Rs. 26,000.00
-
Rs. 26,000.00
Current price
Rs. 26,000.00
MSF

 

Hyper Extension 
This machine suits every exerciser because of its flexibility in both length and inclination adjustments.
The equipment is made of best quality, fine finished square and rectangular heavy duty steel pipes.
These are well recognized for their features such as corrosion resistance, premium functionality, low maintenance, robust construction and enhanced durability.
The equipment is powder coated.
High quality foam and rexin are used for cushion making.

.
High quality rubber boots are used at the ends of the base pipes to avoid damage to the gym floor.
The Hyper Extension is a revolutionary weight training system that utilizes body weight exercises to stretch and strengthen your hip flexors, glutes, and shoulders. Increase mobility, stability and flexibility in your hips, abs and lower back. Improve athletic performance and overall health.
Dimension: 
L 75''    W 30''  H 39''   
L 190.5cm   W 73cm   H 99cm  
Target Muscle: 
Lower erector spinae, hamstrings, gluteus maximus & hip adductors
*T&C: Installation charges will be extra.