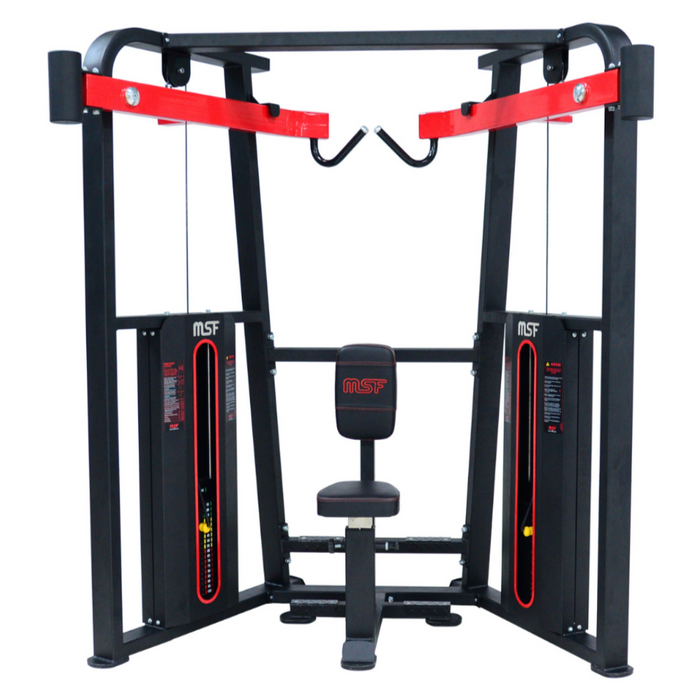 High Lat Machine (Magnum)
Save

Rs. 13,000.00
Save

Rs. 13,000.00
Original price
Rs. 140,000.00
Original price
Rs. 140,000.00
-
Original price
Rs. 140,000.00
Original price
Rs. 140,000.00
Current price
Rs. 127,000.00
Rs. 127,000.00
-
Rs. 127,000.00
Current price
Rs. 127,000.00
MSF High Lat Pully Machine 
High Lat Pully iso lateral dual weight stacks machine for gym workout. This is a high quality, professional grade equipment that produces a smooth, quiet, and stable movement. It offers the user great resistance options and exercises in a variety of muscles groups which can be used to strengthen your body or just maintain muscle tone.
          This machine is designed to allow for isolated unilateral movements, meaning that it can be used to target specific muscles on each side of the body. It also has adjustable weight stacks, so that you can increase or decrease the amount of resistance depending on your fitness level. The ergonomic construction of the machine ensures that you can perform your exercises safely, while the sturdy steel frame ensures that it will last for years. With the High Lat Pully iso lateral dual weight stacks machine, you can get a full-body workout while maximizing your results.
Dimension:
L 51''   W 72.5''     H 84.5''
L 129.5cm   W 184.5cm    H 215cm
Target Muscle:
Back muscle - Latissimus Dorsi,
lower part of Trapezius & Rhomboids.
*T&C: Installation charges will be extra.