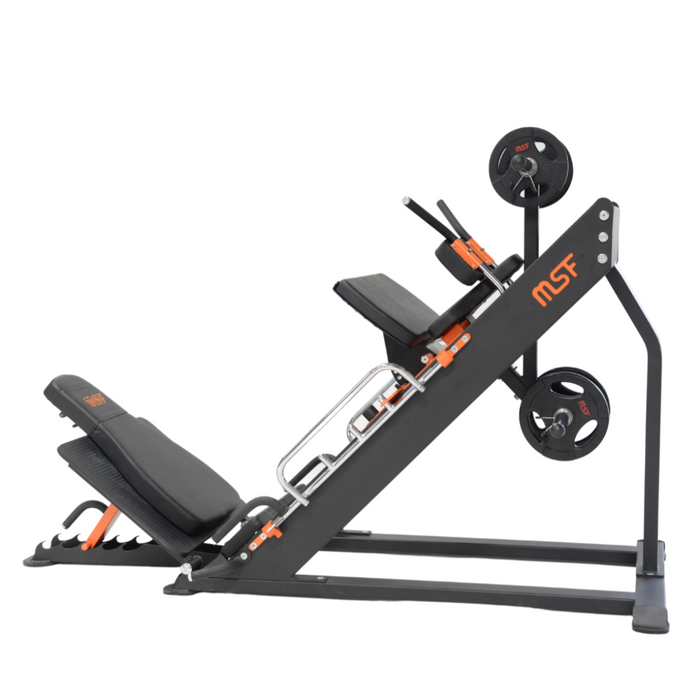 Hack Squat/Leg press (Plate Loaded)
Save

Rs. 15,000.00
Save

Rs. 15,000.00
Original price
Rs. 135,000.00
Original price
Rs. 135,000.00
-
Original price
Rs. 135,000.00
Original price
Rs. 135,000.00
Current price
Rs. 120,000.00
Rs. 120,000.00
-
Rs. 120,000.00
Current price
Rs. 120,000.00
MSF Hack Squat/Leg Press machine 
The Hack Squat Leg Press Dual Station Plate loaded machine is a heavy duty, commercial grade equipment that ensures consistent performance and high quality control. This entry-level plate loaded machine has been designed to offer a high-end experience.

The hack squat and leg press are two popular exercises used to target the muscles of the lower body. Both exercises can be done with either a machine or a plate-loaded version.

The hack squat is typically done on a machine and involves a barbell or weight plate placed behind the back. The exercise involves pushing the weight away from the body while keeping the back straight and maintaining an upright posture. This exercise targets the quadriceps and glutes, as well as the calves, hamstrings, and lower back.

The leg press, on the other hand, is usually done on a machine that has a carriage or platform on which the feet are placed. This exercise involves pushing the weight away from the body while keeping the back flat on the platform. The leg press primarily targets the quadriceps, hamstrings, and calves, as well as engaging the core muscles.

Whether you use a machine or a plate-loaded version of either exercise, make sure to maintain proper form. Also, make sure to adjust the weight to a comfortable level for your body and to perform the exercises using slow and controlled movements for best results.

Easily converts from leg press to hack squat positions.
Undercarriage design for best space saving.
Adjustable footplate and back support for proper leg alignment.
Oversized foot plate for correct positioning.
Built-in safety catch.
Large footplate and back pad accommodate users of all sizes.
Spring-loaded take off handles for ease of use and engagement.
Adjustable bottom stops provide long or short ranges of motion for all user heights.
L 91''    W 63''      H 54''  
L 231cm  W 160cm    H  137cm 
Target Muscle:
Quadriceps & glutes,
adductor magnus & calf (soleus).
*T&C: Installation charges will be extra.