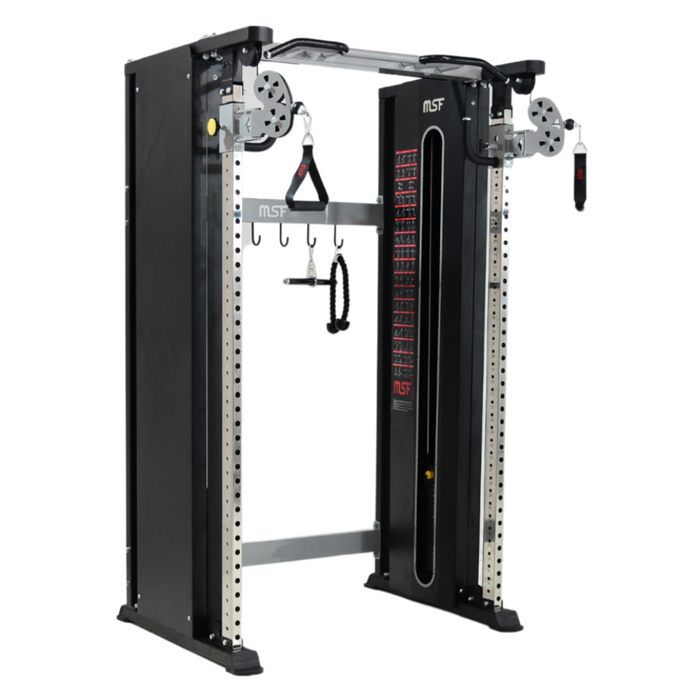 Function Cable Cross (Magnum)
Save up to

Rs. 0.00
Save

Rs. -127,000.00
Original price
Rs. 127,000.00
-
Original price
Rs. 137,000.00
Rs. 127,000.00
-
Rs. 137,000.00
Current price
Rs. 127,000.00
MSF Function Cable Cross (Magnum)
Functional Cable Cross is an intense and effective exercise for working the chest, shoulders, and triceps muscles. It can be done in many different ways with a variety of cable machines, and is often used as part of a high-intensity circuit training workout.

The basic cable cross involves two cables, one attached to the top pulley on the machine and the other attached to the bottom pulley. You start standing in the middle, between the two pulleys, with a cable in each hand. You then press the cables together to engage your chest muscles, until your arms are fully extended.

To add an extra challenge, you can try changing up the speed and angle of your pull. You can also add a twist to the movement by pulling one cable up and the other back to work the obliques.

The key to effective functional cable cross training is to keep good form and make sure that the cable is always under tension. Start with light weights and gradually increase the load as your muscles become stronger. Cable cross training is a great way to target specific muscle groups and build overall strength.
• Multi-position pull-up handles for greater exercise variety.
• Fully enclosed weight stacks protect the machine's internal components
• Enhanced placards highlight targeted muscle groups and proper user positioning for a wide range of exercises
One-handed pulley adjustment offers easy operation
• Frame guards protect against chips and scratches
Clearly indicated adjustments for ease of use
• Compact design
accommodates placement in spaces with low ceiling and provides ample storage for functional training accessories
• 1:2 pulley ratio provides smooth operation
• Standard effective resistance 75 kgs . (per side)
• Also available in effective resistance of 100kgs. (per side)

Dimension:
L 52''    W 63''   H 92''    
L 132cm   W 160cm   H 234cm
Target Muscle:
Upper pecs, lower pecs, middle 
pecs, biceps & triceps.
*T&C: Installation charges will be extra