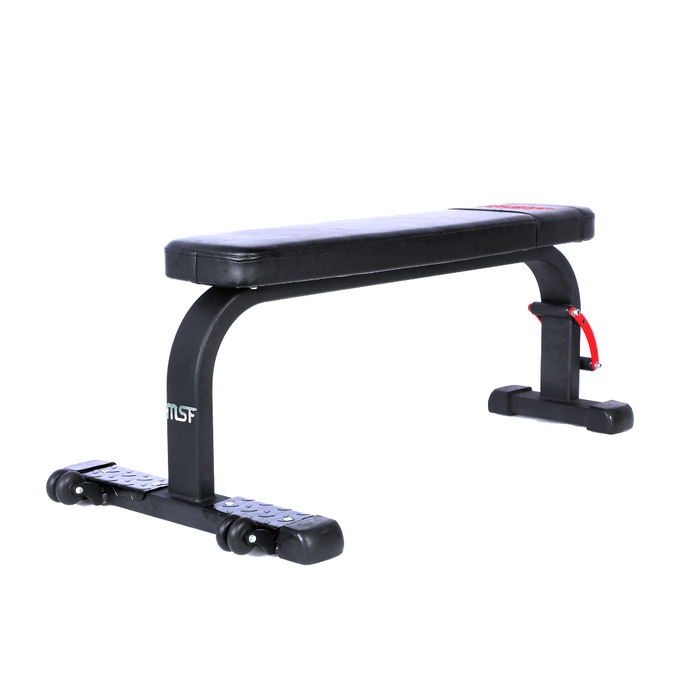 Flat Bench (F-BN)
Save

Rs. 3,750.00
Save

Rs. 3,750.00
Original price
Rs. 15,000.00
Original price
Rs. 15,000.00
-
Original price
Rs. 15,000.00
Original price
Rs. 15,000.00
Current price
Rs. 11,250.00
Rs. 11,250.00
-
Rs. 11,250.00
Current price
Rs. 11,250.00
MSF

 

Flat Bench
A flat bench is a versatile piece of equipment that can be used for a variety of exercises, making it a great addition to any home gym. Flat benches are typically used for bench presses, but they can also be used for dumbbell presses, flyes, and other exercises.

When choosing a flat bench, there are a few things to keep in mind. First, consider the weight capacity of the bench. You'll want to make sure that the bench can support your weight and the weight of any weights you'll be using. Second, consider the size of the bench. If you have limited space, you'll want to choose a bench that folds up for easy storage. Finally, consider the materials used to make the bench. A bench made from high-quality materials will be more durable and last longer.

Here are some of the benefits of using a flat bench:

Improves chest and shoulder strength:

 

Bench presses are one of the best exercises for building chest and shoulder strength. When done correctly, bench presses can help you build a strong and muscular upper body.
Improves triceps strength:

 

Triceps are the muscles that extend your arms. They are an important muscle group for many exercises, including bench presses, push-ups, and dips.
Improves core strength:

 

A strong core is essential for good posture and balance. Flat benches can be used to perform a variety of exercises that target the core, such as planks, crunches, and sit-ups.
Burns calories:

 

Weight training can help you burn calories and lose weight. Flat benches can be used to perform a variety of exercises that are effective for burning calories, such as bench presses, dumbbell rows, and push-ups.

The Flat Bench is an ideal choice for those who want to get the most out of their workouts. The single cross leg design provides more freedom for users to move about, while the wide back pad stabilizes them during heavy lifts and helps them get the most out of their efforts. The extra stability offered by the back pad makes this type of bench perfect for users of all sizes and levels of fitness. Additionally, the flat bench design makes it easier to target specific muscle groups, so users can focus on their goals with greater efficiency.

 Integrated wheels simplify movement within facility.
Dimension:
L 53.5''      W 26''        H 19''
L 134cm    W 66cm    H  48.5cm