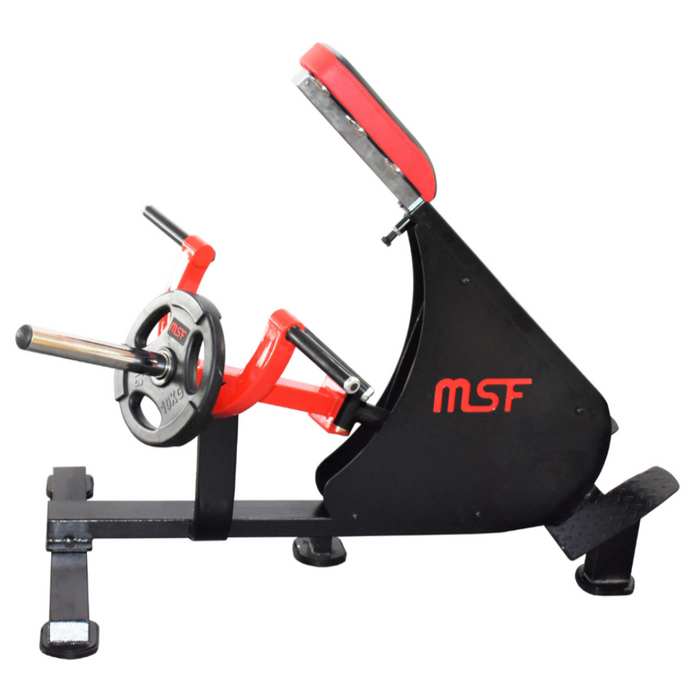 T Bar with Chest Support (Ultra) Plate Loaded
Save

Rs. 16,000.00
Save

Rs. 16,000.00
Original price
Rs. 56,000.00
Original price
Rs. 56,000.00
-
Original price
Rs. 56,000.00
Original price
Rs. 56,000.00
Current price
Rs. 40,000.00
Rs. 40,000.00
-
Rs. 40,000.00
Current price
Rs. 40,000.00
MSF  T Bar with Chest Support (Ultra)
If you're looking to add some serious power to your  commercial gym, the T Bar with Chest Support Plate Loaded machine is an excellent choice. This machine offers a variety of different exercises that target the chest, back, shoulders, and arms. With its adjustable chest support , this machine also allows you to perform with ease and complete safety.

The T Bar with Chest Support Plate Loaded machine is designed with a heavy-duty frame, allowing you to lift hefty amounts of weight without worrying about any strain on your body. The frame also comes with a range of different adjustments which allow you to increase or decrease the height you require. This makes it perfect for both beginners and experienced lifters alike, giving everyone an opportunity to make progress regardless of their strength level.

Unlike other machines, the T Bar with Chest Support Plate Loaded machine also has a foot platform to best suit your body size and strength level.


The last great feature of this machine is that its design allows for easy access and a short learning curve. This makes it perfect for users who are just starting out on their fitness journey and need something that won't be too difficult to learn how to use.

Overall, the T Bar with Chest Support Plate Loaded Machine is an exceptional piece of equipment that's perfect for any  commercial gym. Its versatile design and customizable features make it perfect for a variety of different lifters and its durable construction ensures years of use without any issues.

T-Bar Row Machine improves back strength and muscle building. Independent arm movement provides a natural path of motion and will help you to develop an equal rowing strength in both arms.
Multiple handgrips.
Independent arm movement.
Suitable for 50 mm diameter weight plates.
Dimension:
L 68.5''   W 33''     H 56.5''
L 174cm   w 84cm   H 143.5cm 
Target Muscle:
Back muscle - Latissimus dorsi & 
Real shoulders.
*T&C: Installation charges will be extra.