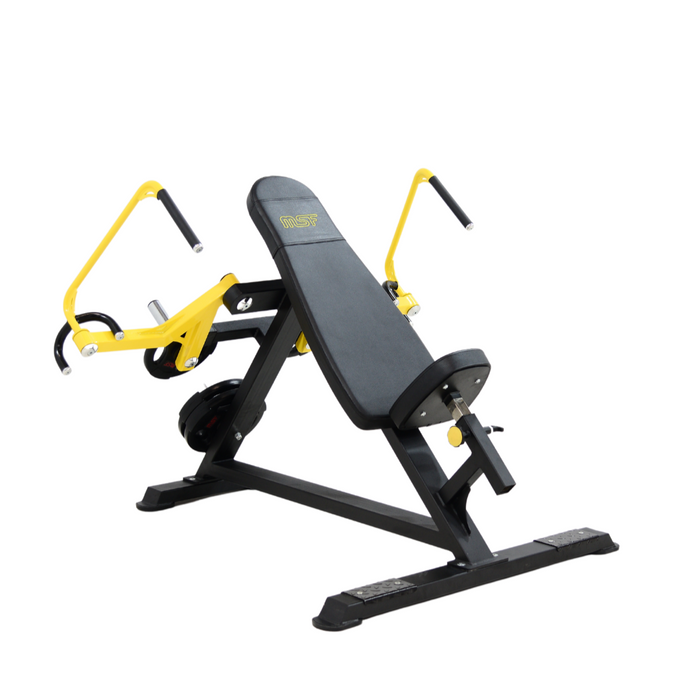 Chest Contract Pec Fly (Plate Loaded)
Save

Rs. 23,000.00
Save

Rs. 23,000.00
Original price
Rs. 83,000.00
Original price
Rs. 83,000.00
-
Original price
Rs. 83,000.00
Original price
Rs. 83,000.00
Current price
Rs. 60,000.00
Rs. 60,000.00
-
Rs. 60,000.00
Current price
Rs. 60,000.00
MSF Chest Contract Pec Fly (Plate Loaded) 
The Chest Contract Pec Fly (Plate Loaded) is an exercise designed to target the chest muscles. It is performed by sitting on a flat bench and adjusting the plate loaded pec fly mechanism to the desired angle. The user then grasps the handles of the mechanisms and begins to move them in an arc-like fashion, bringing the handles together at the center line of their chest. With each repetition, the chest muscles are contracted and tension is applied to the area. The Chest Contract Pec Fly (Plate Loaded) can be used to tone, build size, and strengthen the chest muscles. It can also be used to improve posture and develop better symmetry in the upper body. Additionally, the exercise can help to increase flexibility in the chest area and help to reduce stiffness.

I

ndependent converging movement provides a natural path of motion.

Back pad adjusts to alter range of motion and expand training options.

Dual-grip pressing positions offer greater training variety.

Ratcheting seat for easy adjustment.
Dimension:
L 88''            W 60''             H 46''
L 223.5cm    W 152.5cm     H 1518cm
Target Muscle:
chest- pectoralis major minor.
*T&C: Installation charges will be extra.