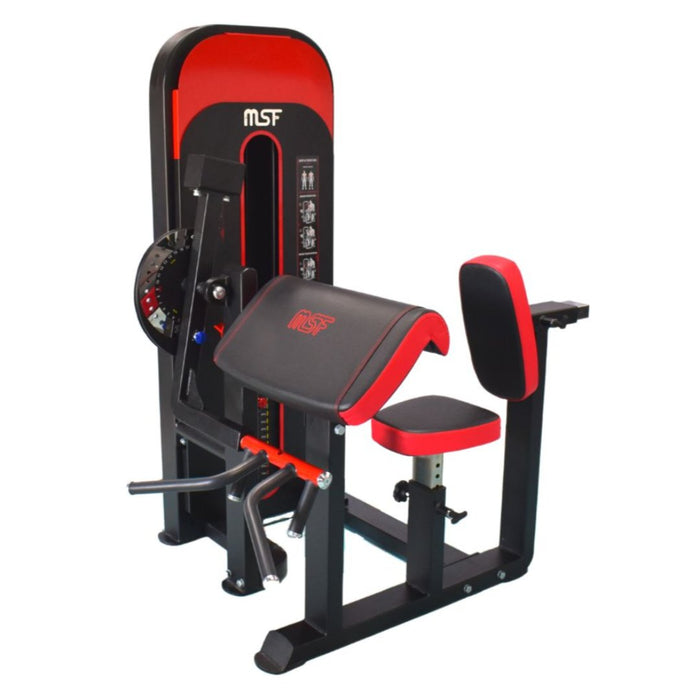 Biceps/Triceps Combo Magnum
Save up to

Rs. 0.00
Save

Rs. -105,000.00
Original price
Rs. 105,000.00
-
Original price
Rs. 110,000.00
Rs. 105,000.00
-
Rs. 110,000.00
Current price
Rs. 105,000.00
MSF Biceps triceps machine 
 Bicep/Tricep Machine provides a seamless change from bicep exercise to triceps exercise with dual grip handles. The adjustable seat and upper arm pad are designed to align the elbow with the rotational axis of the lifting arm. The machine's handle pivots to enhance user comfort.
The upper arm is made up of two primary muscle groups—the biceps and the triceps, and it is equally important to train both. To achieve optimal results from arm exercises, it is essential to perform movements consistently and correctly every time.
Adjustable arm pad is ergonomically designed to fit multiple users and eliminate unwanted shoulder movements.
Adjustable seat with back support gives users a comfortable, stable platform to help isolate movement.
Handles reduce torque and provide continuous resistance around a natural arc.
Includes a 75kg . weight stack also available with a 100 kg. weight stack option.
Dimension:
L 52''   W 46.5''    H 62''
L 132cm  W 118cm   H 157.5cm 
Target Muscle:
Biceps & triceps 
*T&C: Installation charges will be extra.