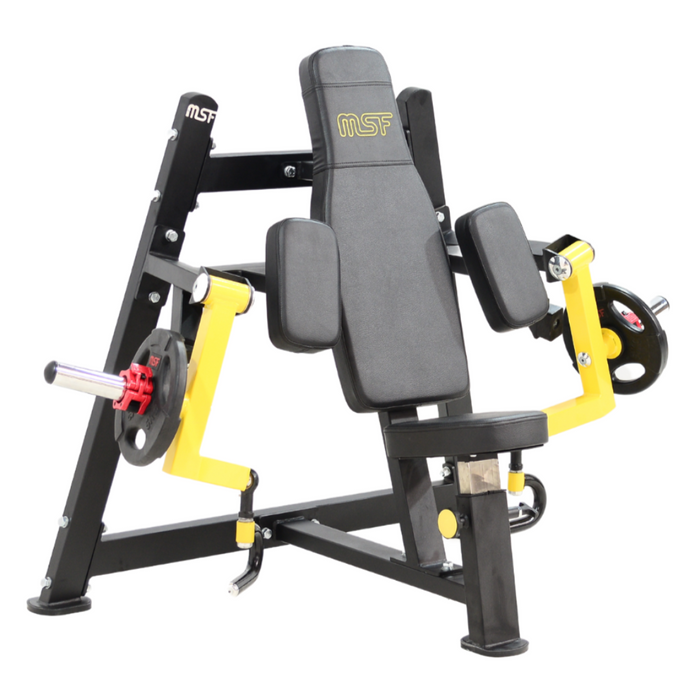 Biceps Curl Isolateral Plate Loaded machine
Save

Rs. 9,000.00
Save

Rs. 9,000.00
Original price
Rs. 86,000.00
Original price
Rs. 86,000.00
-
Original price
Rs. 86,000.00
Original price
Rs. 86,000.00
Current price
Rs. 77,000.00
Rs. 77,000.00
-
Rs. 77,000.00
Current price
Rs. 77,000.00
MSF Biceps curl machine
Introducing the Bicep Curl Iso Lateral Machine – the perfect way to target your biceps for maximum gains. This machine is designed to provide with a focus on the biceps, allowing you to isolate each arm individually for a more effective and controlled workout. With rotating handles and weight plate resistance, this machine can be adjusted to fit your individual needs and provide an intense, dynamic workout. The Bicep Curl Iso Lateral Machine is the perfect machine to help you build and tone your biceps. Get ready to experience the ultimate bicep curl workout!

Side arm pads encourage proper user positioning.

Counterbalanced exercise arm offers optimal resistance.
Dimension:
L 35.5''          W 64''          H 49''
L 90.5cm       W 163cm     H 124.5cm
Target Muscle:
Biceps - Front & lower of
upper arm, branchialis, branchioradialis,