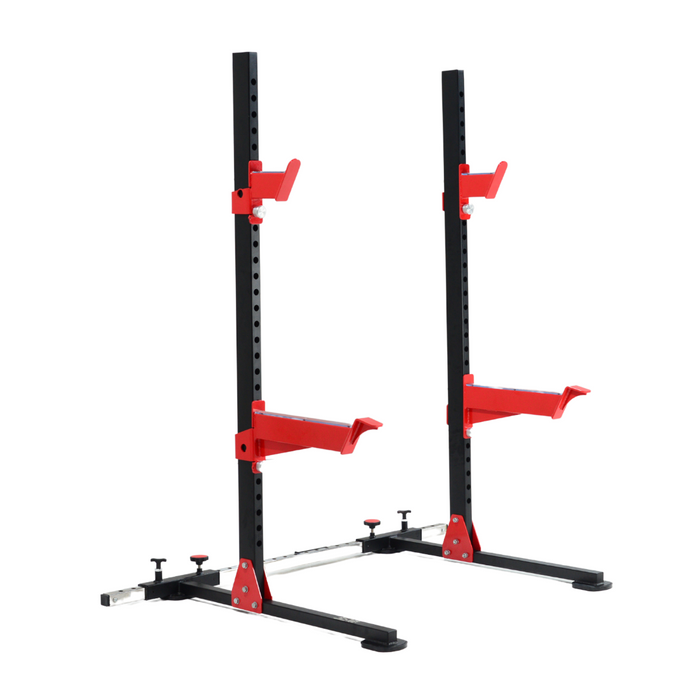 Adjustable Squat Stand (Home Gym)
Save

Rs. 2,800.00
Save

Rs. 2,800.00
Original price
Rs. 22,000.00
Original price
Rs. 22,000.00
-
Original price
Rs. 22,000.00
Original price
Rs. 22,000.00
Current price
Rs. 19,200.00
Rs. 19,200.00
-
Rs. 19,200.00
Current price
Rs. 19,200.00
Our Adjustable Squat Stand is a must-have for any gym! Its durable steel construction and adjustable height make it ideal for a variety of exercises, including squats, shoulder presses, and other strength-training exercises. Thanks to its adjustable height, it is the perfect addition to any home gym, and can be set to  different heights so you can find the perfect fit for your workout. Plus, the heavy-duty construction and easy assembly make it perfect for any level of fitness enthusiast. Take your home gym experience to the next level with our Adjustable Squat Stand!


Adjustable squat stands are a great addition to any gym. These stands provide a safe and secure way to perform squats, which is one of the most effective exercises for building lower body strength.

The adjustable feature of these stands allows users to customize the height of the stand to their specific needs. This means that people of different heights can use the same stand without having to worry about adjusting it themselves. Additionally, the adjustable feature allows users to perform different exercises, such as bench presses, with the same stand.

One of the benefits of using adjustable squat stands is that they are much safer than using a regular barbell. The stands provide a stable base for the weight to rest on, which greatly reduces the risk of injury. Additionally, users can easily adjust the height of the stands to ensure that they are always lifting within their safe range of motion.

Another benefit of using adjustable squat stands is that they save space. Unlike a full squat rack, which takes up a lot of room, these stands can be easily stored away when not in use. This makes them ideal for home gyms or small commercial gyms.

In conclusion, adjustable squat stands are a great investment for anyone looking to build lower body strength safely and effectively. They are versatile, safe, and space-saving, making them a must-have for any gym.

 

Adjustable Squat Stands are made of high quality steel that provides Maximum safety.
Double Height Adjustable. Accommodates Bench Press.
Innovative and Multi-functional design with Bell Bar and the unique base. Ideal for flat, incline, and shoulder bench presses, squats, curls, rows, and more.
Non-slip and abrasion-resistant rubber end caps firmly position the Squat Rack and prevent damage to the floor injured joints.