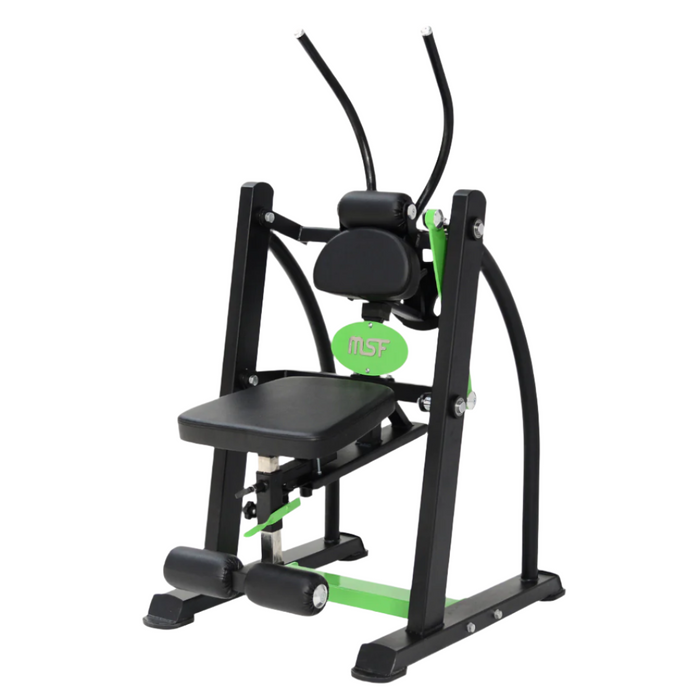 AB Core Machine
Save

Rs. 8,000.00
Save

Rs. 8,000.00
Original price
Rs. 60,000.00
Original price
Rs. 60,000.00
-
Original price
Rs. 60,000.00
Original price
Rs. 60,000.00
Current price
Rs. 52,000.00
Rs. 52,000.00
-
Rs. 52,000.00
Current price
Rs. 52,000.00
MSF AB Core Machine
The Plated-Loaded Ab Core machine uses a swivel seat to target both sets of oblique muscles. The MSF Ab Core machine is a fundamental part of the strength training progression. The ab crunch is an exercise machine exercise that primarily targets the abs.

The seated crunch machine does allow lifters to pile on the weight that seems to be effective at working the core.
This dual action motion trains the full abdominal wall. The hammer ab machine trains the full abdominal wall by using two motions — the exerciser's upper body moving downward and the lower body moving upward.
Ab Core Machines are designed to help you strengthen and tone your abdominal muscles. These machines work by providing resistance training that helps you build core strength. The resistance levels can be adjusted to suit your individual needs and preferences, allowing you to progress at a pace that is comfortable for you. With regular use of an Ab Core Machine, you can expect to see improved muscle definition and increased overall core strength.
Dimension:
L 46''          W 32''       H 65'
L 117cm     W 82cm    H 165cm
Target Muscle :
Rectus abdominal, transverse abdominal, internal & external oblique hips & back. 
*T&C : Installation charges will be extra