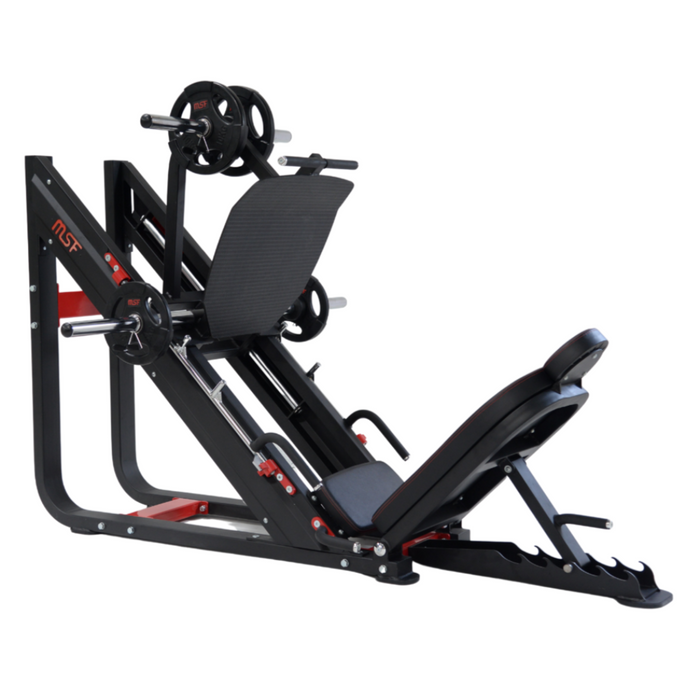 45 degree Leg press Plate Loaded
Save

Rs. 25,000.00
Save

Rs. 25,000.00
Original price
Rs. 145,000.00
Original price
Rs. 145,000.00
-
Original price
Rs. 145,000.00
Original price
Rs. 145,000.00
Current price
Rs. 120,000.00
Rs. 120,000.00
-
Rs. 120,000.00
Current price
Rs. 120,000.00
MSF 45* degree Leg press machine Plate Loaded
45 degree Leg press Plate Loaded for fitness professionals. The 45 degree leg press plate reduces stress on the lower back, and it allows you to perform more repetitions while keeping your hips in a neutral position. The design is made to last by utilizing a durable steel construction with a non-slip surface that maintains its shape over time. With a heavy duty design and solid build quality, this product will give you years of reliable performance.

Easy-to-use and see racking mechanism

Adjustable bottom stops provide long or short ranges of motion for all user heights
Adjustable angle back pad enhances comfort, optimizes hip angles and accommodates a greater range of users.
Assistance handle on platform for easier entry and exit.
Linear bearings for smooth feel and function.
Dimension:
L 91'' W 63'' H 54''
Target Muscle:
Quadriceps, glutes, adductor magnus and calf.
*T&C : Installation charges will be extra