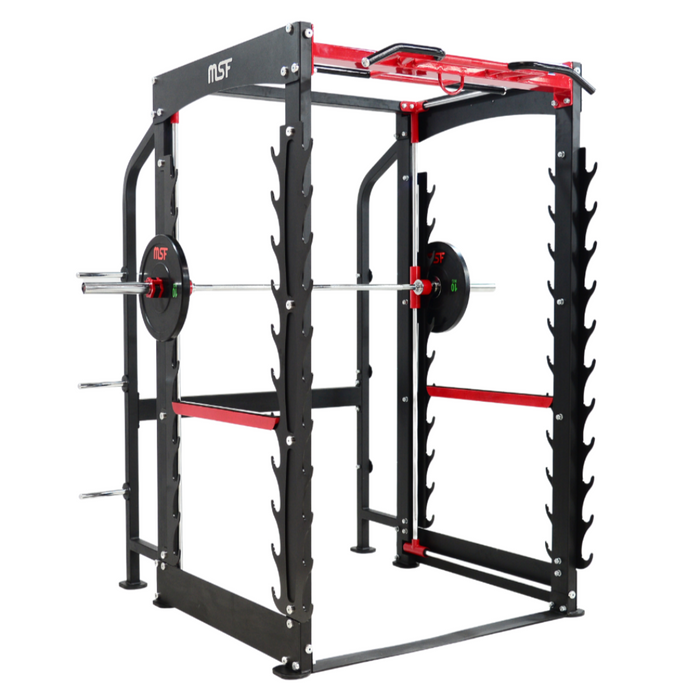 3D smith Machine with front squat rack
Save

Rs. 35,000.00
Save

Rs. 35,000.00
Original price
Rs. 180,000.00
Original price
Rs. 180,000.00
-
Original price
Rs. 180,000.00
Original price
Rs. 180,000.00
Current price
Rs. 145,000.00
Rs. 145,000.00
-
Rs. 145,000.00
Current price
Rs. 145,000.00
MSF 3D smith Machine with front squat rack
Dimension:
L 70''          W 85''          H 92''
L 178cm     W 216cm     H 234cm
The 3D Smith Machine is a revolutionary piece of gym equipment that has the potential to revolutionize the way we work out. It combines the features of a traditional Smith Machine, with the added benefit of being able to move in three dimensions, allowing for a more realistic and varied workout experience. By using this machine, users can perform exercises in multiple planes of motion and can target different muscle groups with greater precision and accuracy. With its unique design and capabilities, the 3D Smith Machine is an ideal choice for those looking to take their workouts to the next level. 
This 3D smith machine with front squat rack is perfect for your gym. Its sturdy construction and easy-to-use design make it ideal for any skill level or fitness goal. The machine has a premium commercial quality frame, which makes it ideal for commercial gyms and personal training.