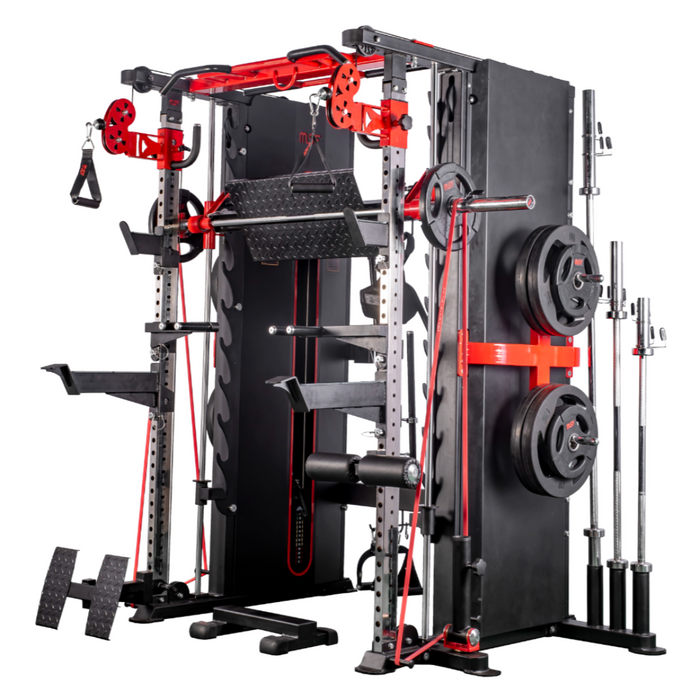 360 Multifunctional Machine
Save

Rs. 0.00
Save

Rs. 0.00
Original price
Rs. 0.00
-
Original price
Rs. 0.00
MSF 360 multifunctional machine is a piece of all in one gym equipment that allow you to do different exercises for different muscle groups in small space requirement. It provides,
1) Extra range of motion for functional cable cross and smith machine .
2) Easy to fit leg press plate .
3) Upgraded linear bearing for smith machine giving a smoother travel / Smooth locking system.
4) Counter weights on Smith Machine is to reduce the net weight of the barbell.
5) Commercial grade pulleys , cable , bearing , J Hooks , Safety arms etc.
6) Main frame is constructed from 100mm x 50mm 11 gauges steel tube .
7) Front Pulley / Power rack upright post is 80mm x 40 mm 304 grade stainless steel hook .
8) Functional Pulley slider smoother and single hand adjustment .
9) J hook and safety arms have nylon strips to avoid metal to metal contact .
The 360 multi functional gym can be used for multiple workouts with commercial gym effect. Which means you can work out like a professional body builder in your Garage Gym, Gym Studio or any other location you choose to use it!